---
During back-to-school season, market immunizations for students and staff
In brief:
All 50 states have immunization requirements for children
Yet, many children still don't receive the immunizations they need
Immunizing kids during back-to-school season is an opportunity for independent pharmacies
Pharmacies can EDUCATE families, PARTNER with physicians and IMMUNIZE patients
---
Recommended immunizations
The Centers for Disease Control and Prevention (CDC) recommends that children ages 7 to 18 receive almost a dozen immunizations.1 Some common ones are shown below.
CDC recommendations:
Flu shots annually (ages 7-18)
Tdap to prevent tetanus, diphtheria and pertussis (age 11 or 12)
A meningitis vaccine (at age 11 or 12 with a booster at 16)
A two shot HPV (human papillomavirus) immunization for boys and girls (age 11 or 12)2
Children may also need to catch up on shots they missed.
In addition, all 50 states mandate immunization for children in preschool and K–12.3
Some states enforce their mandates by not allowing children to attend school without proof of immunization. For example, in Oregon in 2017, more than 4,000 students were told they couldn't attend school because they didn't meet the state's immunization requirements.4
The opportunity for pharmacies
With more than 50 million school-age children in the United States,5 there are millions of immunizations given each year. Independent pharmacies can play a key role by:
Educating
Immunization recommendations change each year and differ by state. Pharmacists can play a key role in educating families on the immunizations their children need.
Tip: During back-to-school season, be ready to discuss with families how to protect their children by staying up to date with recommended vaccines.
Tools: CDC offers a portable-size childhood/adolescent immunization schedule for providers. Also, to help parents understand the need for vaccines, the CDC offers a quiz in English and Spanish. This tool creates a personalized list of recommended immunizations.
Partnering
Pharmacists can work with local physicians to partner in delivering immunizations. Although physicians may prefer to deliver some immunizations themselves, doctors may want to refer patients to a pharmacy, especially during the hectic back-to-school season. "It all hinges on the relationship with the physician," said Dennis Song of Flower Mound Pharmacy in Texas. "You want to work with them."
See how Health Mart® pharmacies can identify patients due for vaccines and access collaborative practice agreements.
Immunizing
Pharmacists can administer many immunizations children need. However, the specifics vary by state. See state vaccine requirements here.6
Pharmacists administering immunizations is becoming more and more popular nationwide. In fact, a recent survey found: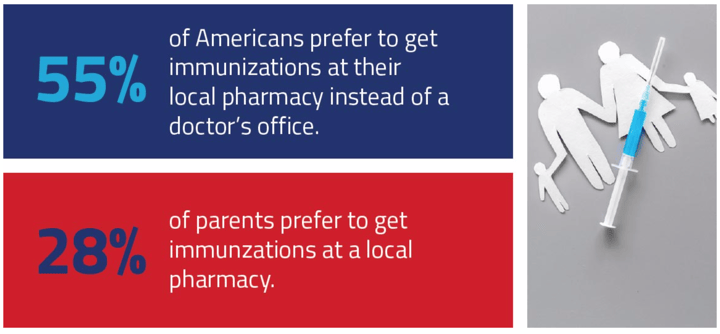 Another study found that 29% of parents reported interest in vaccinating their adolescent children at a pharmacy.7 Parents consider pharmacists as skilled at vaccine administration as physicians, and believe pharmacies improve vaccine access.
However, with pharmacies currently missing out on more than 70% of immunization opportunities, there is still opportunity.
To increase pharmacy administration, pharmacies can market back-to-school vaccines:
Through signage in the store
When families pick up prescriptions
On their website and through social media
Via mailings, PR and other marketing efforts
Staff members need flu shots, too
Dennis Song, owner of Flower Mound Pharmacy in Dallas/Fort Worth suburb, has found that about two weeks after school is back in session, adults begin to think about flu shots.

Flower Mound Pharmacy first began giving flu shots to teachers in its store. The pharmacy then provided them on campus. At one point, Flower Mound Pharmacy was giving flu shots for school staff on 72 school campuses, paid by the school district.

To efficiently deliver flu shots in a school:

Work with district administrators and have a contact at every school. They can market the service to staff and handle the paperwork.
Send a copy of the release form at least one month in advance for employees to complete.
Have your team ready when staff members arrive. At an elementary school, a pharmacist can complete up to 40 immunizations in 45 minutes. At high schools, Flower Mound Pharmacy might deliver 300 shots.
Note: The information provided here is for reference use only and does not constitute the rendering of legal or other professional advice by McKesson. Readers should consult appropriate professionals for advice and assistance prior to making important decisions regarding their business. McKesson is not advocating any particular program or approach herein. McKesson is not responsible for, nor will it bear any liability for, the content provided herein.
---
1 Centers for Disease Control and Prevention, Immunization Schedule for Preteens and Teens (7 through 18 years), 2018 Immunization Schedule.
2 Centers for Disease Control and Prevention, Immunization Schedule for Preteens and Teens (7 through 18 years), 2018 Immunization Schedule.
3 Immunization Action Coalition, State Information.
4 "Oregon Children Missing Vaccines Will Be Sent Home from School Tomorrow," Kate Sheridan, Newsweek, Feb. 20, 2018.
5 Center for Education Reform, Enrollment.
6 Centers for Disease Control and Prevention, State Vaccination Requirements.
7 "Parents' Willingness to Get Human Papillomavirus Vaccination for Their Adolescent Children at a Pharmacy," Preventive Medicine, February 2017.
---