Every successful person knows that their accomplishments depend on a community of individuals working together toward a common goal.
Successful pharmacies also recognize this relationship. That's why building community and improving patient outcomes are two ticks off the top of nearly every independent pharmacy's "goal list."
But what if you could earn a little extra money at the same time? You can with the AAPA Edge™ Referral Program!
How Do Referrals Build Community and Improve Patient Outcomes?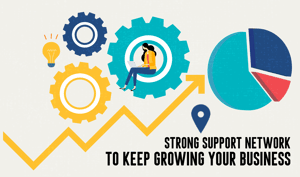 When a community grows, they have a bigger voice and can advocate for better deals, lower pricing, and the implementation of cutting-edge technologies. By increasing membership, AAPA has more leverage to bring to the bargaining table.
Being able to compete with a retail chain pharmacy's lower pricing is just the first step. With increased leverage, local community pharmacies also can present customers with additional advantages including:
Increased adherence
Convenience plus
Personalized, one-on-one service
And that's how you can help build community and improve patient outcomes through referrals.
But what about the extra money?
How it the AAPA Edge™ Referral Program Works
Every AAPA member pharmacy has access to the AAPA Edge™ Referral Program, and with that access, you can help build your community of pharmacies by referring colleagues.
Just refer a pharmacy for membership and when that pharmacy:
Achieves a minimum purchasing volume of $100,000 per month
Reaches a 10% GCR rate or greater per month
Remains an active AAPA member for 90-days
You get $1,000! It's that easy!
And, as an added bonus, you're not limited to the number of referrals you can make! Refer one pharmacy that hits their benchmarks and you get $1,000. Refer ten pharmacies that hit their benchmarks and you get $10,000. The only one who places a limit on what you can earn is you, the member!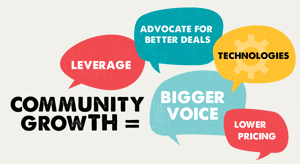 AAPA is Here To Help
Our goal is to build a better community of pharmacies.
We do this by negotiating better deals at better prices and by bringing our members more robust tools like our AdvantEdge™ Portal, which allows you to use near real-time metrics to track growth and profitability.
---
Learn More about the AdvantEdge™ Portal
---
Let AAPA help you reach you build your professional community and improve patient outcomes by leveraging access to products, services, and tools that increase profitability and put extra cash in your pocket. Don't wait, refer a member today!
If you're a member pharmacy who has a colleague (or more!) who are looking for more purchasing power, higher profitability, and a strong support network to keep growing your business, refer them to AAPA today!
Not a member yet? Get your AAPA Edge and learn more about how AAPA membership can help boost your independent pharmacy's purchasing power, profitability, and support network to keep growing your business, by joining us today!
Learn more about the AAPA and its enhanced independent pharmacy offerings at http://www.aaparx.com/programs.