Being an independent or local pharmacy is equal parts challenge and reward.
From successful oversight of operations all the way to improving patient outcomes, local pharmacies are continually challenged to remain competitive in an ever-evolving market. That's no easy task.
Always up for a challenge, independent and local pharmacies have developed many solid steps that help keep their businesses relevant, increase sales, and continue to prove their value to the communities they serve.
One of the most important steps in maintaining relevance is the ability to offer a wide variety of retail products. Pharmacies have learned the art of providing a rich and extensive retail inventory and, with that knowledge, discovered a relatively simple way to increase profit margins while continuing to work toward positive patient experiences.
So, when a retail product comes along that has the potential to boost patient experience and make a dramatic impact on a pharmacy's bottom line, folks tend to stand up and take notice.
And right now, the product that is making that dramatic impact is cannabidiol, or CBD.
Is CBD Right for Your Customers?
CBD products are poised to disrupt the market in a big way. Independent and local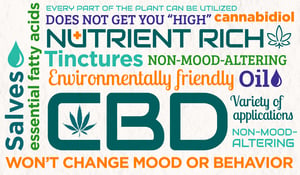 pharmacies whose goal is to increase profits and improve patient experience will want to be on the leading edge of this disruption, riding its wave into the retail market.
AAPA has partnered with Zova™ to bring our members CBD products that are hemp-sourced, THC free, and carry a proven CBD pedigree and safety guarantee.
CBD is gaining traction as a popular lifestyle-enhancing supplement. Because it is a supplement, it is not intended to treat or cure any specific conditions, however, as a supplement, hemp-sourced CBD:
Is non-psychoactive
Vegan and is
Environmentally friendly, with nearly every part of the plant being utilized for a variety of applications beyond CBD products
User experiences can vary so it is important for potential CBD users to try the product themselves to see if it works for them.
Put Your Pharmacy on the Leading Edge
When it comes to hemp-sourced (THC free) CBD products, you need a champion by your side. A partner that knows the Farming Bill ropes, has done the research on quality and sourcing, and who has the tools to provide you with everything you need to bring these emerging products into your inventory – where your patients want them.
AAPA is that company, and our partnership with Zova™ brings our members a solid CBD access point, a quality pedigree, and the AdvantEdge™ CBD Purity and Safety Guarantee.
Which means when you offer our product in your pharmacy, we promise our products to be:
TCH free
Broad spectrum
Hemp-sourced
Non-GMO
Vegan and
Produced in the USA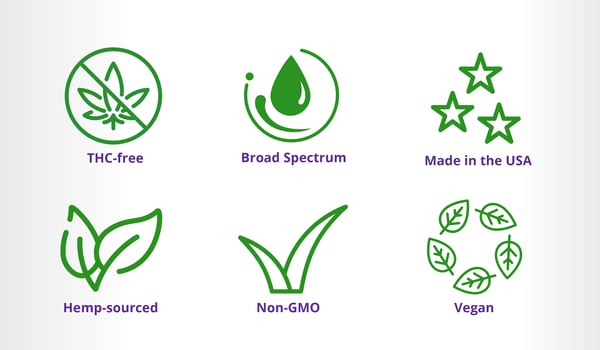 The Legality of CBD Products
Federal laws still prohibit the cultivation, sale, and use of marijuana, yet there are several states that have recently legalized the medical (and some recreational) use of the drug.
The 2018 Hemp Farming Act, however, removed the Schedule I controlled-substance classification from hemp plants that contain less than 0.3% THC and reclassified those plants as agricultural products, making THC free, hemp-sourced CBD products more accessible.
But there are still gray areas – a lot of gray areas.
What CBD Products Means for Independent and Local Pharmacies
There is a lot to learn about CBD, and there are a lot of questions you might be asking yourself: Do I know where my CBD is coming from? What grade it is? How is it sourced? Do I fully understand the Farm Bill's reach and oversights?
These questions require up-to-date answers paired with top-of-the-line training - and that's why you need a champion in the industry.
When you have the right partner by your side, your pharmacy can add CBD to your retail inventory safely, legally, and at a savings that will set you up for success.
If you're a current AAPA member who wants to add CBD product to your inventory, simply go to www.zovacbd.com/aapa for more product information, pricing, and details on how to create your wholesale account. Once your account is created, you will have instant access to deep discounts, wholesale pricing, and the convenience of shopping directly from the wholesale portal.
Not yet a member? Independent pharmacy owners looking for more purchasing power, higher profitability, and a strong support network to keep growing their businesses, can get the AAPA edge by joining us today!
Learn more about AAPA and its enhanced independent pharmacy offerings at http://www.aaparx.com/programs.